Never Miss a Chance to Do the Most Good
Please enter your name, email and zip code below to sign up!
Thrift Stores
our Thrift Stores are open and accepting Drive-Thru Donations at this time. staff is on hand to help accept and unload donations.
About our Thrift Stores
When you shop at The Salvation Army Family Thrift Stores, you're not only getting great deals on household items, furniture, and clothing - you are helping to change lives right here in Northern Nevada. Proceeds from our Stores fund our Rehabilitation Program for men who struggled with addiction, homelessness and other serious life problems. In addition, the men in our six-month program receive work therapy by picking up donations and preparing items to be sold in our Stores! Many of those who have completed our program are able to re-enter society and return to gainful employment. Learn more about our Rehabilitation Program.
Looking to work at our Stores
We are currently hiring for our Thrift Stores. If you are looking for employment then head on over to our job postings and apply today.
Our Locations For Shopping and Dropping Off Donations
Reno Sutro Street
(Including Antiques and Collectables)
Monday through Saturday
9:00 AM - 6:00 PM
1925 Sutro Street
Reno, NV 89512
775-688-4588
Reno Valley Road
Monday through Friday
9:00 AM - 3:30 PM
Saturday
9:00 AM - 5:00 PM
2300 Valley Rd
Reno, NV 89512
775-360-2123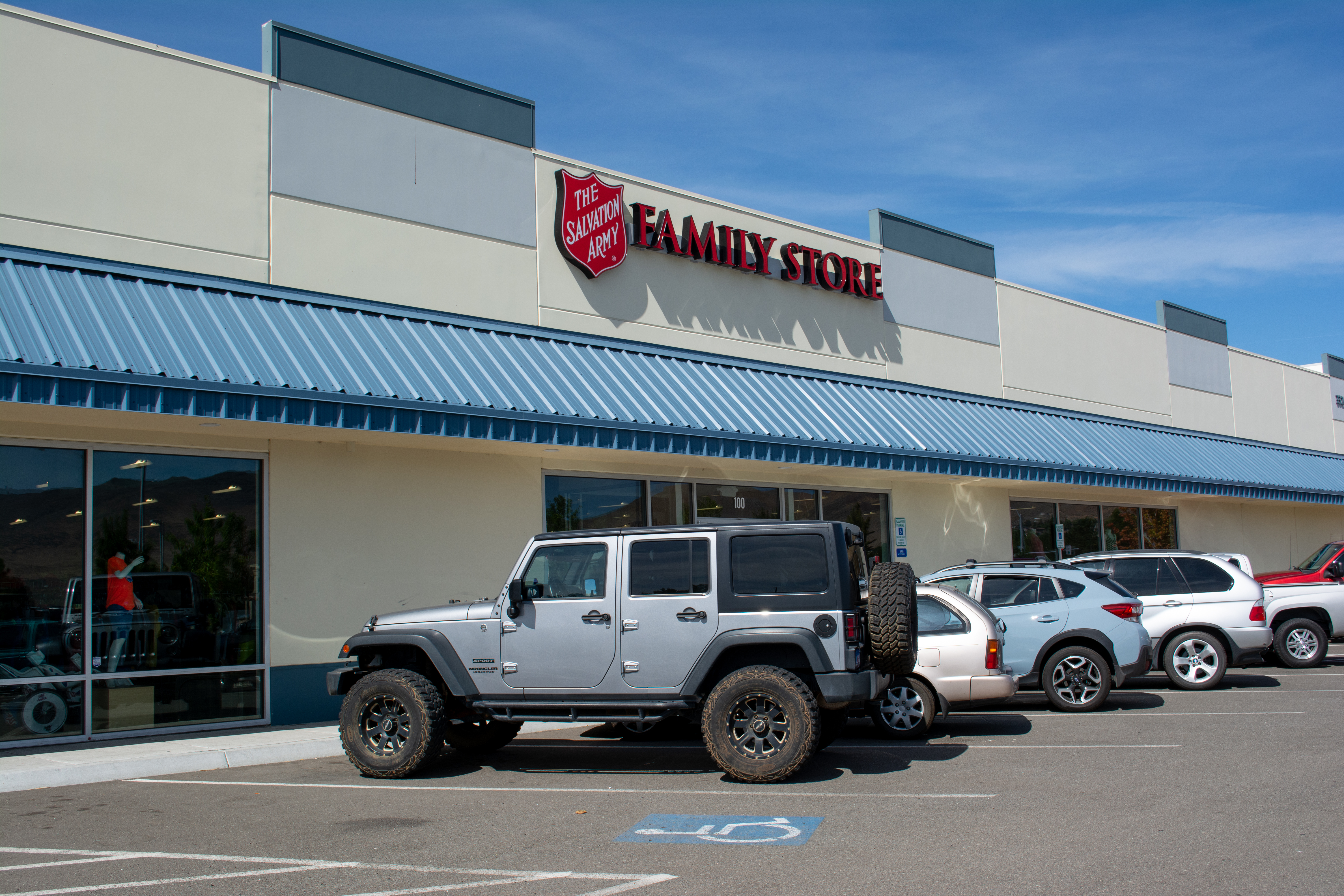 Carson City
Monday through Saturday
9:00 AM - 6:00 PM
3320 Research Way
Carson City, NV 89706
775-885-1898
Donations
The donations we receive in Northern Nevada and Lake Tahoe are sold in our thrift stores to fund vital programming in your community. There are certain items that will not sell do to their condition or age and cost us money to dispose of. In order to avoid being turned away, please evaluate the items you are considering to donate and make sure they are suitable. There is a list below of items that we will not accept; it is not meant to be comprehensive, merely a guide.
Tubed Television
Wooden Entertainment Centers for the above
Pool Tables
Pianos/Organs
Large Wooden Desks
Fluorescent Light Bulbs
Paints and Chemicals
Tires
We are unable to provide donation pick-up service. Please scroll up to our locations to find the donation drop-off location nearest to you. We are sorry for any inconvenience and hope to provide this service again in the near future.